Thanksgiving is the purest holiday. It is the distillation of all that is good and lasting in families and with friends. The Thanksgivings of my childhood were often at our relatively unheated summer house in Massachusetts. We meet four or five other die-hard families for a last weekend before closing the houses for the winter. Winds blow off the water at 40 knots, Canadian geese landing in our pond at dusk. On those holidays I think the fires shone brighter in contrast to the dark panes with the icy ocean beyond. It was all about the people and making a wonderful meal for those people. We felt like we understood the pilgrims.
Here in Philadelphia, I love hosting Thanksgiving. We always have houseguests and more in for the meal. Part of what I love is setting the table, pulling out silver, arranging flowers, and mixing china. Thanksgiving is a mix for me of preserving traditions and making new ones. At this meal food is secondary to the presentation of comfort and solace and coziness.
Thanksgiving is a mix for me of preserving traditions and making new ones.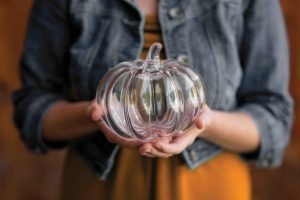 Check out our delicious faux fur by Evelyne Prélonge when you're on the hunt for the perfect hostess gift. I recommend the faux fur hot water bottle – talk about old fashioned chic! Our wishbone napkin rings and turkey salt and peppers add just the right note of unexpected holiday whimsy. I'm also a huge fan of the handmade Simon Pearce glass pumpkins – as a gift or as an accessory to my own fall table.
Right now Tailored Home has one of the best sets of china I have seen in a long time. We have the full set of twelve of Wedgwood's rare Gardens of the World made for the Garden Club of America in 1938. These plates are rare and a set of twelve in perfect condition is a once in a lifetime occurrence. The burgundy, black and gold and the art deco styling of each plate depicting a garden from a different part of the world is really fabulous.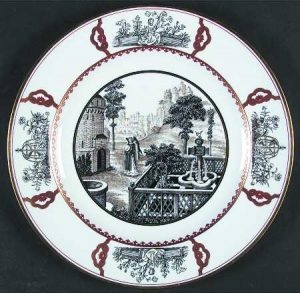 We have all twelve locales from Mount Vernon to Early Italian, Egypt and beyond. And what does this tell us about the Garden Club of America's 1938 view of the world: Mount Vernon and Winterthur each rate their own plate, on a par with whole nations. And Australia, a continent is not mentioned at all. What an amazing piece of material culture. Then take these plates and mix and match them with Juliska's Forest Walk collection, or red striped Ana Candles and suddenly you have an interesting story. Or don't set your table at all with these plates—hang them on the amazing wallpaper by Thibault currently on display in our front window. Of course, my dream is for someone to buy these gorgeous plates, and then ask us to design a room around them. It's especially appropriate that these plates are in Philadelphia since The Garden Club of Philadelphia, the country's oldest, was officially founded in May, 1904, right here at Andalusia, in the home of Mrs. Charles Biddle.
Preserve traditions and innovate new ones in the right measure: isn't that the key to a healthy life?
And speaking of innovating: we are starting a new tradition here at Tailored Home: Christmas in November. Next Thursday, November 9 we are hosting our first annual sneak peak at Tailored Home's Christmas. We have invited Write Time to come to take holiday card and paper order, and we are offering 10% off merchandise storewide for the evening, and we'll have food and drink galore. The first 50 shoppers will receive a goody bag with a lovely gift from Juliska. It's a not to be missed night.