Flatware is to the table what jewelry is to a great outfit. Often overlooked, it can make all the difference between just okay and stunning. When it comes to setting the table, most of us have, over the years, collected a variety of options when it comes to table top elements like table linens or china patterns, changing them regularly to reflect our mood or the season. However, when it comes to flatware there's usually just two options – formal and every day.
Flatware is a veritable undiscovered country of personal expression when it comes to your dining table. Let's dive right in and start exploring some of the hottest trends in flatware. Here are a few examples of what's happening now and which brands are leading the charge: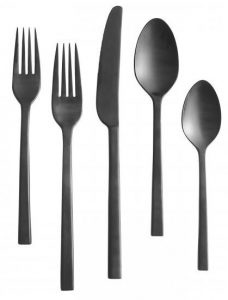 Black is the New Black. Nothing sets the stage quite like a set of matte black flatware. The unexpected contrast when paired with a white or marble tabletop, the effortlessly chic appeal. Sets like those by Vera Wang for Wedgwood (the literal definition of classic meets contemporary) add a modern twist to the traditional table.
Unusual Materials. Materials like wood, mother of pearl, or horn have all been part of the tabletop experience for as long as there have been tabletops, but until now they've pretty much been relegated to being just caviar spoons or oversized salad servers. Take a look at Capdeco's (one of my favorite lines for flatware) Conty Tortoise collection, or the Valencia serving pieces made with buffalo horn by Mary Jurek. They bring a rustic yet refined touch to the table.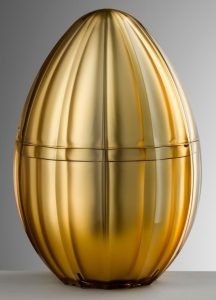 The Gold Standard. Talk about a comeback kid. Once upon a time, gold cutlery was de rigueur for the very wealthy (a duchess would simply never dine on less), but over the years deemed more stodgy than stylish. But in the past year or so gold has made a comeback in a big way, and suddenly it's possible to find chic, modern gold flatware in a huge variety of styles and price ranges. Juliska's Bistro collection includes 24 karat gold plate settings that fit the bill perfectly – on trend, and at $145 for a five piece setting, on budget as well.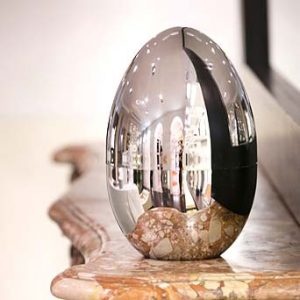 Store it in Style. Don't hide your flatware away, design a room around it! Pieces like Mario Luca Giusti's Mafalda or Christofle's MOOD turn the concept of a flatware holder on it's head. With the lid closed, the Christofle egg (in silver or 24 karat gold plate) is an elegant piece of interior design, a work of art and conversation starter all in one.