For me this is such a topsy-turvy time of year. I hate the close of the hazy days of summer. I mourn the putting away of sandals and long family dinners on our porch, but what I do love is the sense of starting anew. September is much more of a new year for me than January.
Maybe it's because I was always one of those kids who loved going back to school. New classes, new school supplies and of course, new clothes. My mom would take my sister and me for a power shop at Lord & Taylor followed by lunch at The Bird Cage, their in-house luncheon spot. Later, we would model our new fall fashions for my dad and grandmother, who lived with us. Every couple of years, we'd get a new book bag from LL Bean. Mine always had blue handles—like my bedding, my pajamas and even my toothbrush. What I remember most though was not the azure forced march, but that it was always a time to start afresh.
I love that 'out with the old in with the new' concept.
As a mom, it's the time I sort through our family's shelves and drawers. I clean out anything that is worn or faded or chipped. It's a natural response to having to turn our attentions from outdoors to in – we want home and hearth to feel fresh and fabulous for the cold months ahead.
Refreshing the house is my way to stave off end of summer sadness. It is also the perfect time for new napkins. We use our cloth napkins everyday – not just for special occasions – and keep them in napkin rings on the kitchen table. They take a beating, and by the time fall rolls around each year are in need of replacing. I'm also treating myself to charming new chargers for our table from John Robshaw Textiles. I find using chargers an easy care way to set a really fun and versatile table. They will be completely unexpected with my blue canton, and their golds will pick up my Groundworks curtains.
I embrace the concept of the New Year in September.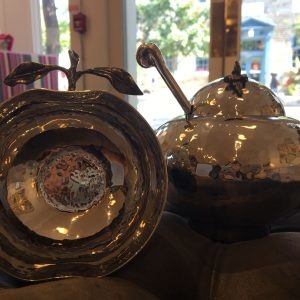 I embrace the concept of the New Year in September – Rosh Hashanah makes a lot of sense to me. And speaking of Rosh Hashanah, is there anything cuter than the stainless steel honey pot and apple dish from Mary Jurek Designs? With their lacquered brass details, I think they're the perfect addition to any holiday table. Shanah tovah!
With the long, cool nights of fall ahead of us – September is a time to reflect, refresh and renew.